Happy Valentine's 2023 - Mr. Valentine's and His Land Of Love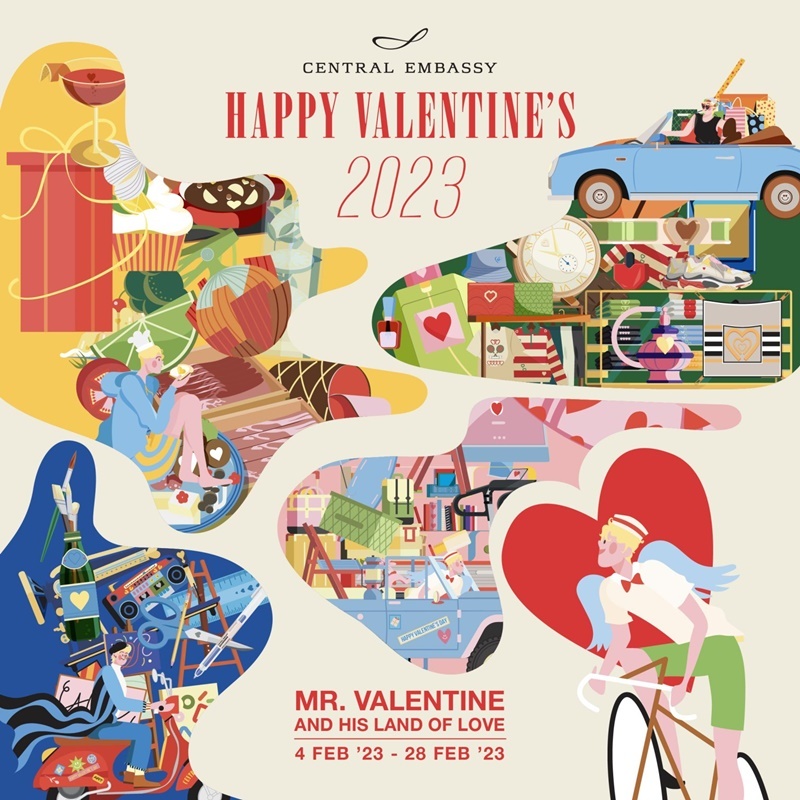 BELOVED SPECIALS
ALL AREA
Mr.VALENTINE'S WALK
14 FEB 23 : 12PM - 1 PM / 6PM - 7PM
LOVING LANDS
LEVEL 2, TUNNEL OF DELIGHT
Mr. Valentine will be there to welcome you when you walk through the delightful tunnel filled with artwork.
CENTER OF VOID, LEVITATING LOVE
Meet Mr. Valentine in the middle of his Land of Love where he will be spreading joy and affection to all.
LEVEL 4 , THE SWEET SWAP
12 Feb '23: 2 - 4pm
Join Gemini & Fourth in their mini concert. Bring a new toy to get a gift from the duo, and Million Gifts Million Smiles will donate the toys to kids in the 3 southern border provinces.
LEVEL 5,
CAPTURE THE LOVE BY SCULPTURE BANGKOK
Hold memories of love in your hands with a photograph for 107 Baht.
11, 12 & 14 Feb : get a free photo with a min. 500 Baht receipt
LOVEY DRAW MACHINE
Get a Valentine's gift designed by VIPUT A. at the Lovey Draw Machine. To participate, spend 10,000 Baht at Central Embassy and get a token to draw a lot and get special gifts for yourself or your loved ones.
ENCHANTED EDEN
Be transported to a magical garden abundant with roses and create memorable experiences in this magical space.
OPEN HOUSE LEVEL 6
SWEETHEART CREATIONS
Attend a workshop creating the most precious handmade gift for your loved ones
(min. 500 Baht receipt required, limit: 100 seats/day)
11 Feb '23
The Jar of Love - make presents for the sugar-lover in your life in the form of a jar filled with sweets.
12 Feb '23
Pretzel in Love - Decorate pretzels and transform them into little hearts to give to the ones you love.
14 Feb '23
Love is in the air & Hearty brownies - Decorate heart-shaped balloons and brownies for the perfect gift combo to hand over to that special someone.
SUGAR-COATED SERENADE
11 Feb '23 - 14 Feb' 23: 12.30 - 8pm
Let the nature of love songs bring you into a love-filtered world.
ALL AREA, BELOVED SPECIALS
VALENTINE'S WALK
14 Feb '23: 12 - 1pm & 6 - 7pm
Join Mr. Valentine on his journey around Central Embassy and receive his heart through a piece of chocolate.