Central Phuket - SHOP & EAT 2023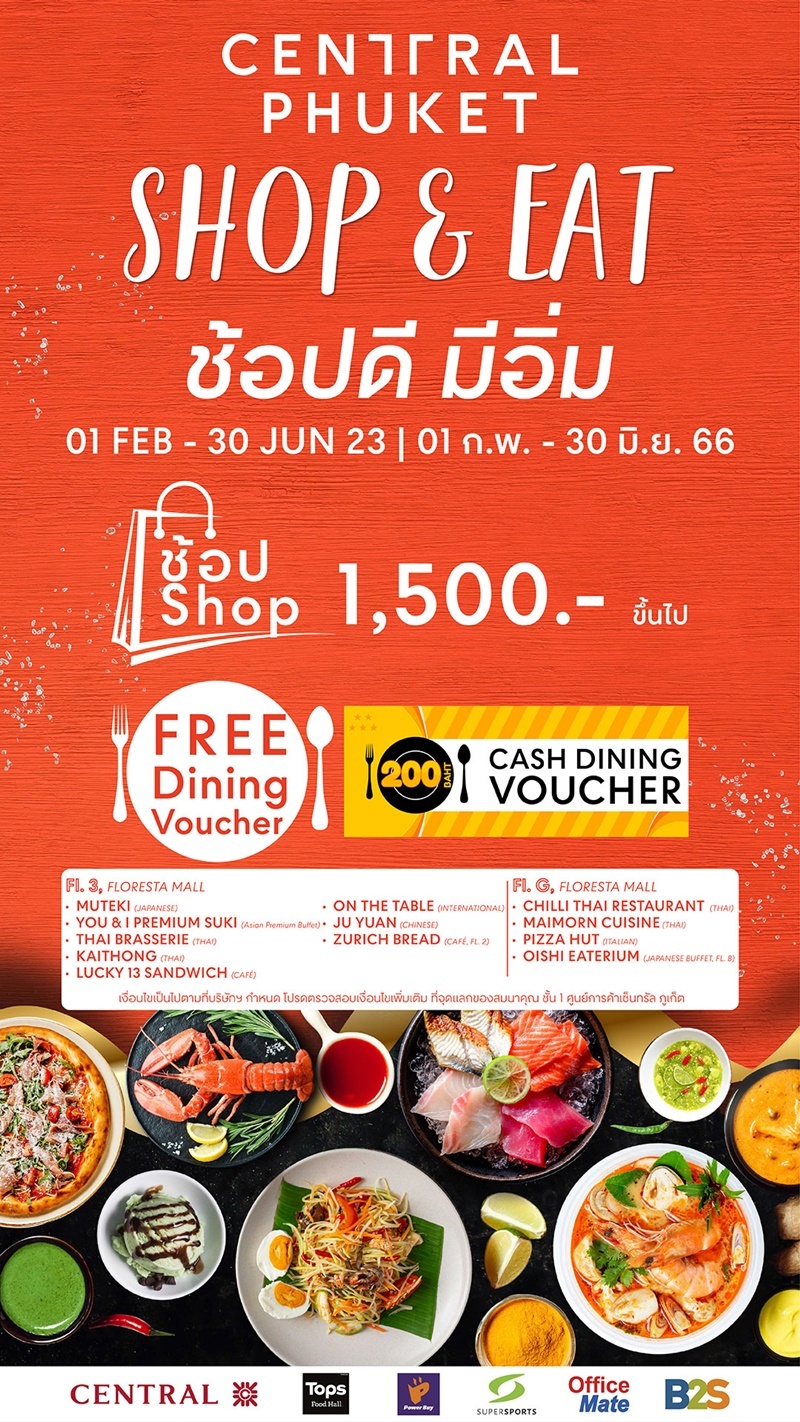 Terms & Conditions of Receiving
Limit the right to receive Cash Dining Voucher 200 baht (valued at 100 baht per card, 2 vouchers) for customers who spend at the store. or restaurants in Central Phuket Floresta and Central Phuket Festival with 1,500 baht or more (receipts can be included within the day)
Bring your receipt to register for a Cash Dining Voucher at the Redemption counter, 1st floor, Central Phuket.
Receipts must be issued within the same day and can be combined not more than 10 receipts
Limited at 1 privileges/customer/day, Limited at 100 privileges per day and Limited at 10,000 privileges throughout the campaign.
From 01 February 2023 - 30 June 2023 (Totally 150 days)
Only Reserves the right for customers who are members of The1.
Only receipts from the following stores located in Central Phuket are accepted: Luxury stores, plaza zones, Central Department Stores, Tops Market, Central Food Hall, Power Buy, SuperSports, B2S, OfficeMate&
Only receipts printed from the cashier machines or tax invoices are accepted and must comply with Central Pattana Co.,ltd. Regulations.&
Terms and Conditions are applied.
Without prior notice, Central Phuket reserves the right to change the terms & conditions, prizes, privileges or benefits, including the typos or mistakes caused by printing process, which comply with Central Pattana Co.,ltd. regulations and Thai law.&
Terms & Conditions& of Use
Please present Cash Dining Voucher at participating Cash Dining Voucher Floresta restaurants only.
(You & I Premium Suki Buffet, Kaithong Original, On the table, Muteki, Lucky 13 Sandwich, Thai Brasserie by Blue Elephant, Juyuan Chinese Restaurant, Zurich Bread Café, Chilli Thai Restaurant, Maimorn Cuisine, Pizza hut and Oishi Eaterium)
Cash Dining Voucher& 100& THB can be used when dining for 500 baht or more per receipt.
Cash Dining Voucher& 100& THB can used up to 1 voucher per 1 receipt.&
1 Cash Dining Voucher can used instead of cash worth 100 THB.
Reserves the right to use this Cash Dining Voucher for the restaurants listed on the Cash Dining Voucher only.
This Cash Dining Voucher can be used until& March 31, 2024,& only,otherwise it is forfeited.
This Cash Dining Voucher cannot be exchanged or changed into cash.
Please check additional terms and conditions at the Resemption counter, 1st floor, Central Phuket.
Terms and Conditions are applied.
Without prior notice, Central Phuket reserves the right to change the terms & conditions, prizes, privileges or benefits, including the typos or mistakes caused by printing process, which comply with Central Pattana Co.,ltd. regulations and Thai law.&
The company reserves the right not to accept the damaged Cash Dining Voucher.
For more information : https://lin.ee/jugXygv
#CentralPhuket #CentralPattana
#WorldClassShoppingDestination
#CenterofLife #Phuket #Thailand