Earn Krisflyer Miles and Travel More with Singapore Airways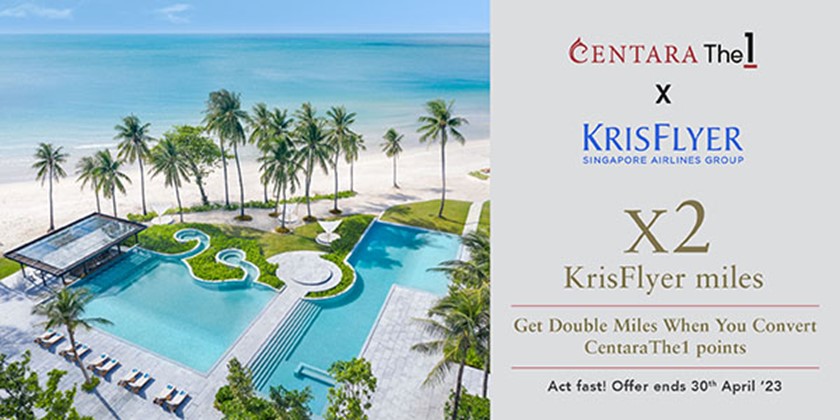 CentaraThe1 members can convert points for 2X KrisFlyer miles from 1 March-30 April 2023
Earn points with CentaraThe1 and you can be taking off on your next holiday before you know it with Singapore Airlines.
Centara has partnered with Singapore Airlines to enhance your CentaraThe1 loyalty programme benefits, with CentaraThe1 members now able to convert their CentaraThe1 points to KrisFlyer miles. As a new or existing member of the KrisFlyer rewards programme, you can accumulate miles faster and use them toward flight purchases, discounts on additional baggage allowance, and other exciting rewards.
Receive 300 KrisFlyer miles for every 5,000 CentaraThe1 points transferred to enjoy a world-class flying experience with Singapore Airlines faster than you think, and rediscover the joys of travel with Centara, The Place to Be.
And remember, CentaraThe1 loyalty programme members also enjoy 15% off our best available public hotel and resort rates when booking direct. If you're not a member, you can sign up for free in less than a minute and immediately start earning points for stays, dining and spa experiences across Thailand, the Maldives, Vietnam, Sri Lanka, UAE, Oman, and Qatar, as well as airline rewards of course!
TERMS & CONDITIONS
Earning of KrisFlyer miles is only applicable to KrisFlyer members.
Earning of KrisFlyer miles is only applicable when you exchange CentaraThe1 points to miles via the CentaraThe1 rewards platform at https://centara1card.com/krisflyer
CentaraThe1 members must be logged in and book directly via https://centara1card.com/krisflyerto be eligible for the 15% discount on best available public hotel and resort rates.
Members must provide their valid KrisFlyer membership number to Centara when exchanging CentaraThe1 points to miles. No miles will be credited if an invalid KrisFlyer membership number is provided.
5,000 CentaraThe1 points can be converted to 300 KrisFlyer miles.
Miles will be credited within 14 working days from the request of the exchange of CentaraThe1 points to KrisFlyer miles.
Earning Miles will not be applicable to hotel and resort bookings
To transfer CentaraThe1 points from your CentaraThe1 Card member account to your KrisFlyer membership account,login to website com

Log in to CentaraThe1.com
Click on "Transfer my Points" under the "My profile" section
In the"Partner box", please select "Singapore Airlines"
In the "Transfer to" box, please fill in your membership number
In the "Point to transfer" box, please fill in the amount of CentaraThe1 points you wish to transfer
Click "Transfer"
Please review and click "Confirm"