Pinning Location of New Restaurants to Please All Beef Lovers!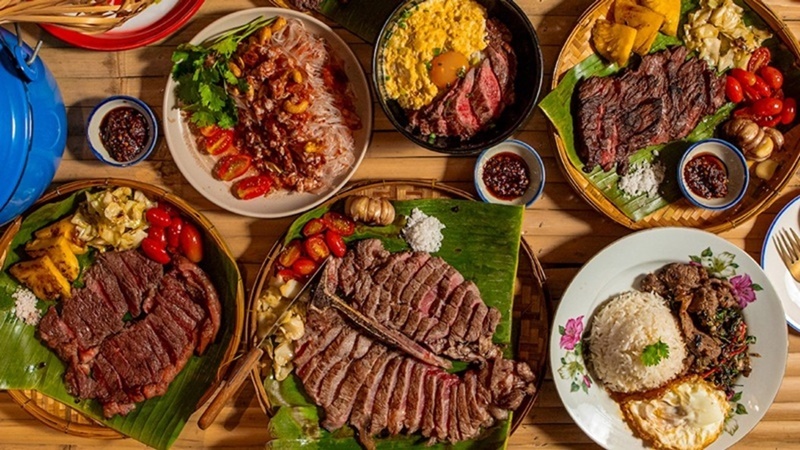 Beef lovers, don't scroll past this post. Enjoy #DeliciousBeef with a wide range of flavorful beef dishes – some restaurants also include amazing gimmicks - at eight newly opened restaurants at centralwOrld.
Co Go Round – delicious hotpot dipping beef straight from the conveyor belt
Daisen Premium Japanese Restaurant – high-quality premium beef
EASY! Buddy – your own selection of meat toppings in stir-fried meat with basil leaves
Meat Labo – tasty giant bowl of 'boat noodles' with wagyu
Nua Tair Plus – authentic beef is here!
Nuer Koo – match the right beef to add flavor to your life
CHUNN – beef lovers' group of friends
Tan Kun – the power of Thai beef with attention to detail
#MeatRestaurant #MeatLover #centralwOrld #CentralPattana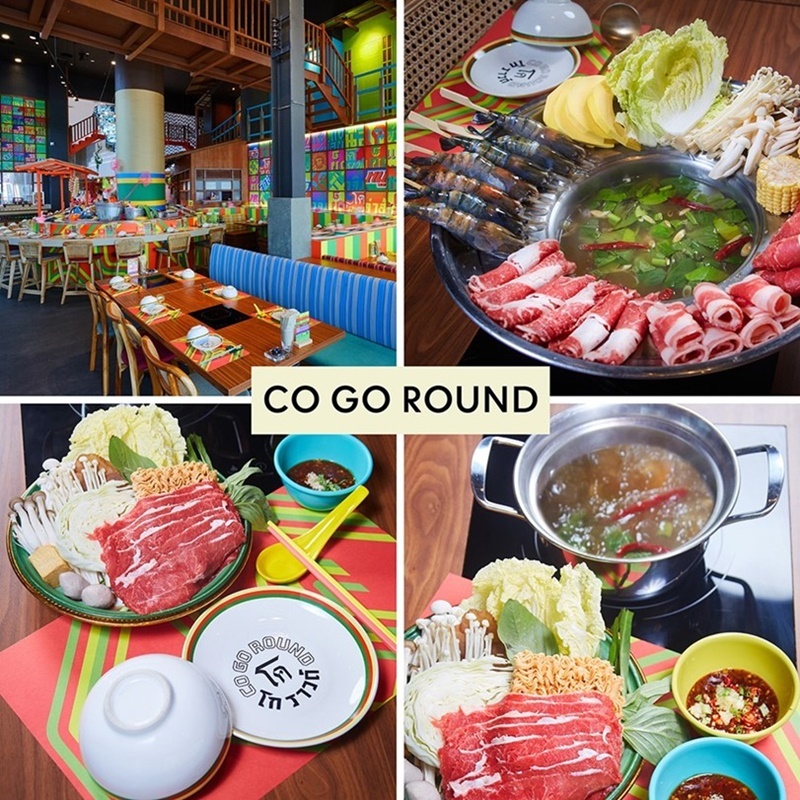 Co Go Round
Good for the soul story: Enjoy beef in a fun and unique way at Co Go Round, which presents a chic concept of 'satisfied with an experience beyond eating'. It is an 'eatertainment'-style restaurant with a meaningful name: 'Co' means 'cow' representing beef as a specialty, serving premium beef from Thailand and abroad. 'Co' also stands for 'Co Space' for eating and drinking, inviting people to come together to eat, drink and have fun… also the special photo corners in the restaurant are wonderful. In addition, on Friday-Sunday evenings, you can enjoy good music to add to the vibe.
Good for the stomach menu: Packed with premium beef such as Thai Wagyu beef, which is soft and fragrant, as it melts in the mouth, beef sirloin, Wagyu neck, shoulder – tender with good texture and an intense flavor from Australia, the restaurant's signature beef tongue, chewy beef, Sua Rong Hai Style (spicy rare-grilled) beef with soft texture from meat and intermuscular fat…enjoy in the form of à la carte or a set menu (even the menu titles are really cool!) for example: 'I-can't-help-but-being-rich Meat Set', which is served with river prawns, Hot Jaew Hon Soup and mixed vegetable set.
Highlight: Dipping station allows you to enjoy mix & match dipping sauces in your own style. There are five sauces to choose from, Jaew Nua sauce with fermented fish, bean curd dipping sauce, stir-fried chili, seafood sauce and Jaew dipping sauce for city people. Have fun matching your dipping sauce with a delicious soup (five styles of soup are available which include Jaew Horn Soup, Boat Noodle Soup, Chicken Soup, Khao Soi Soup and Tom Yum Man Kung Soup).
Enjoy deliciousness at: 7th floor, Beacon Zone, centralwOrld.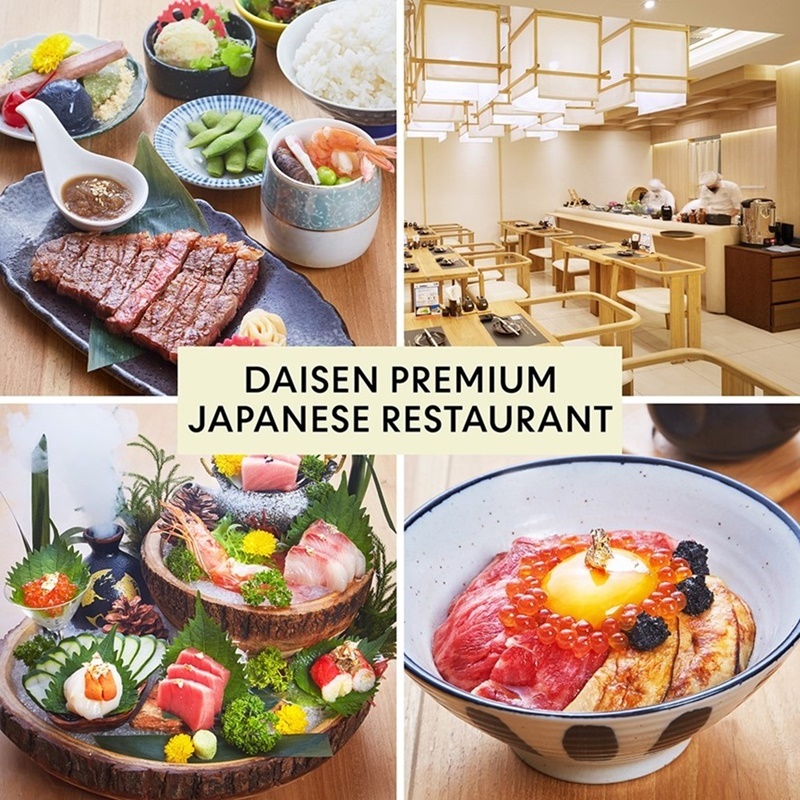 Daisen Premium Japanese Restaurant
Good for the soul story: Yakiniku lovers must try. Daisen offers a wide variety of premium beef to choose from à la carte or Omakase (chef's table with prices starting from only 1,299 baht!!), along with premium Japanese food made with fresh ingredients daily – and no frozen ingredients as they focus on authentic natural flavours!
Good for the stomach menu: Kagoshima Wagyu is from Japanese purebred black cattle from Kagoshima that have been meticulously raised on Kyushu island, which is surrounded by rich nature. Kagoshima Wagyu received a gold medal from the 'Wagyu Olympics' for its beautiful patterning, soft texture and unique fragrance. It is known as 'The Best of the Best Wagyu', with a certificate to guarantee its super premium grade.
Enjoy deliciousness at: 6th floor, I Zone, centralwOrld.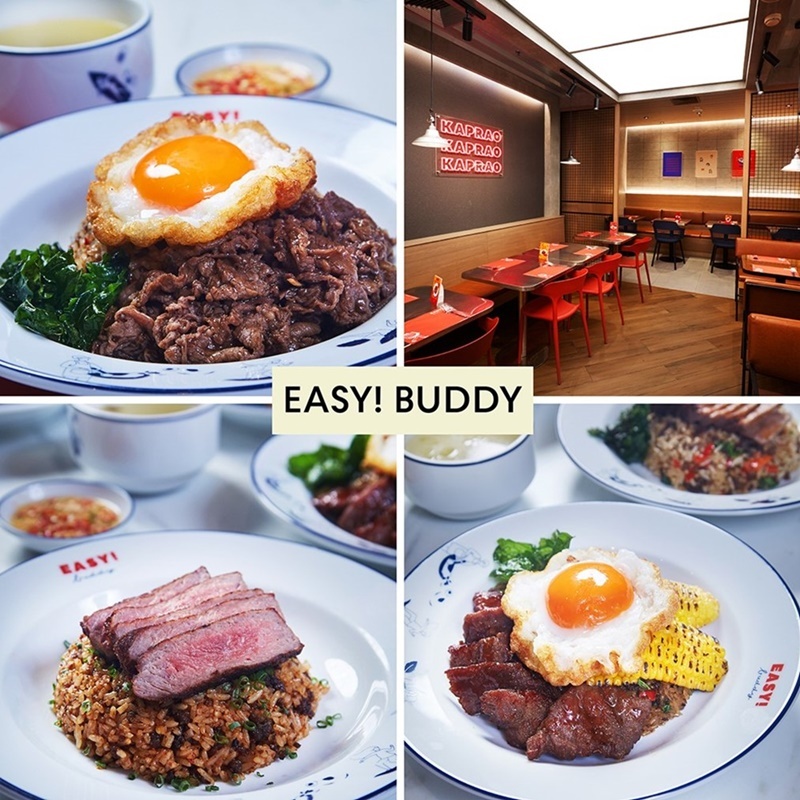 EASY! Buddy
Good for the soul story: Upgrade with Thai basil & meat with rice, the classic menu of Thai people, with a big international twist of creativity at EASY! Buddy and the concept of 'Contemporary Thai Comfort Food'. With quality ingredients, both rice and various meat toppings, EASY! Buddy creates menu items that look appetizing, unique and are more fun with professional chef techniques.
Good for the stomach menu: Buddy's Favourite is the restaurant's signature basil dish: Thai basil with marinated and roast minced beef (using Thai-French sirloin beef) with rice, topped with crispy fried duck eggs and caramelized corn. There is also fried rice with garlic and pepper, and spicy sauce fried rice.
Highlight: Dishes are custom-cooked with various ingredients, sauces and meat toppings of your choice. There's a great selection of rice (fragrant rice, sticky rice or quinoa) in addition to toppings such as fried egg or Onsen Tamago.
Enjoy deliciousness at: 7th floor, Beacon Zone, centralwOrld.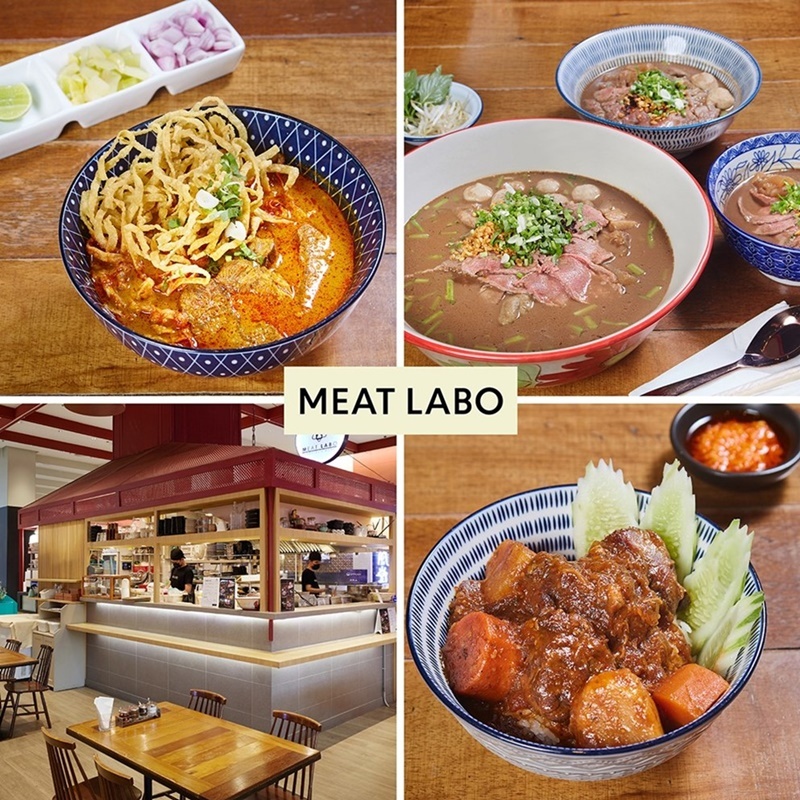 Meat Labo
Good for the soul story: Boat noodles and beef lovers can meet up at Meat Labo as they serve premium beef 'boat noodles', with a concentrated soup of authentic traditional boat noodles.
Good for the stomach menu: Discover a giant bowl of Wagyu beef boat noodles or enjoy rice with beef stew, Khao Soi, Wagyu Beef Hotpot or appetizers such as grilled beef kebabs and spicy Makhwaen dipping sauce.
Enjoy deliciousness at: 7th floor, Beacon Zone, centralwOrld.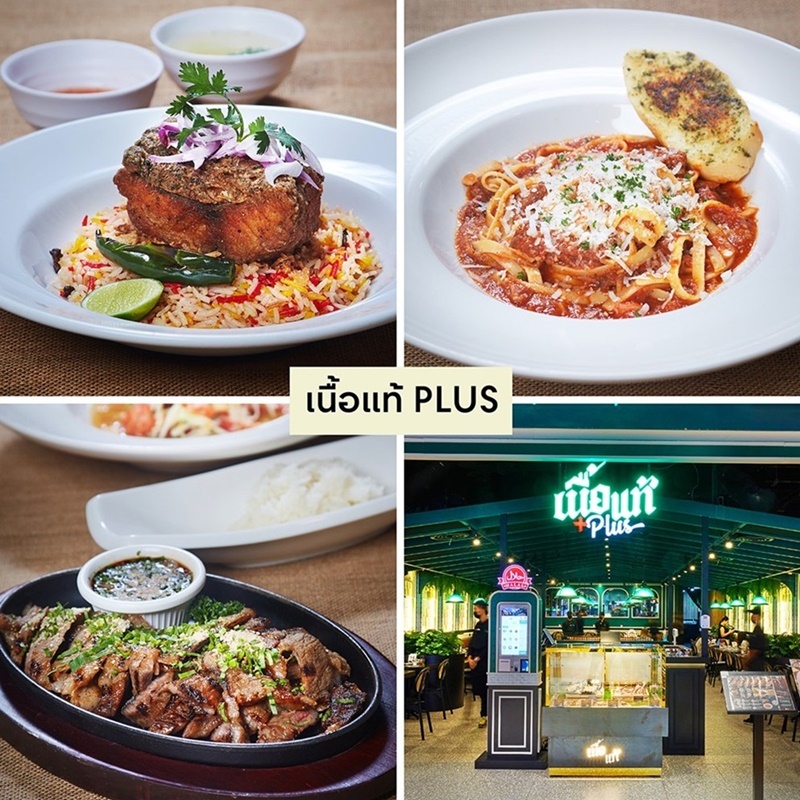 Nua Tair PLUS
Good for the soul story: Nua Tair PLUS meets the needs of beef lovers who are looking for quality beef as we raise Australian cows ourselves, with more than seven types of Thai grain. That's why our meat is tender and has a unique fragrance, perfect for a variety of menu items, both Thai and international cuisine, such as minced beef and basil, beef noodles, beefburgers, beef steaks, and pasta with beef sauce. If you are looking for something more special, try Nua Tair PLUS's special menu only at centralwOrld. Every steak is grilled on a premium stove comparable to fine dining to add to the meat's flavor with a unique special fragrance.
Good for the stomach menu: Special menu only at centralwOrld includes rib-eye steak with truffle sauce and fettuccine beef ragu.
Enjoy deliciousness at: 6th floor, Atrium, centralwOrld.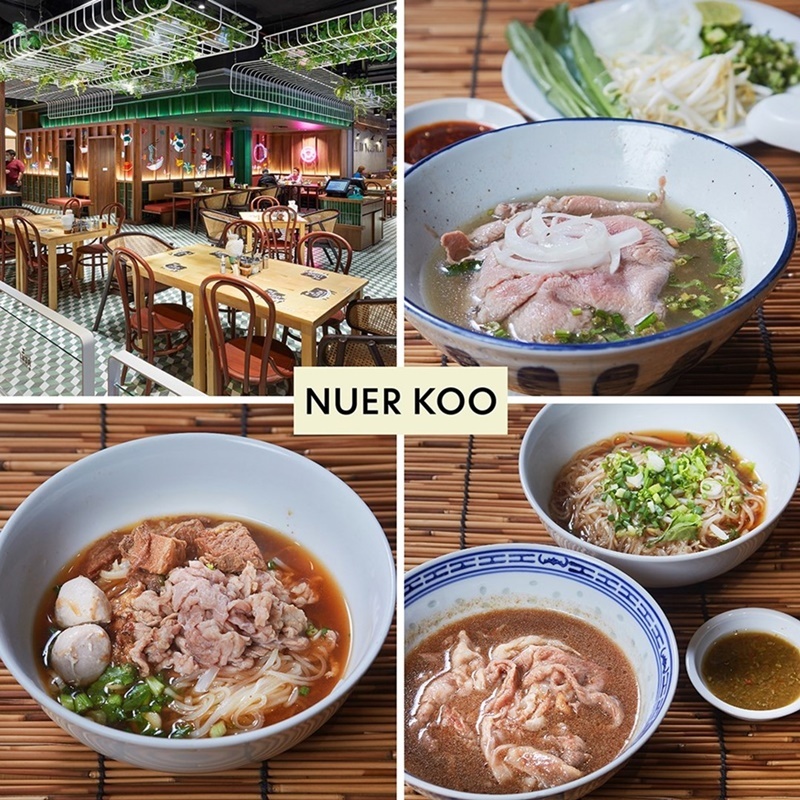 Nuer Koo
Good for the soul story: Anyone who is looking for 'Nuer Koo' (soulmate) that is delicious and perfect for the tongue, Nuer Koo restaurant is the destination for you, with premium delicious beef noodles and six types of carefully selected beef for the best taste – one that you will never forget! Along with noodles that have been perfectly blanched in boiling water or soft and chewy steamed rice with a delicious soup that is simmered until mellow, following the concept of the that the right 'Nuer Koo' (soulmate) will add flavor to your life.
Good for the stomach menu: Six types of beef including sirloin – the hip with less fat with the most beefy aroma, shoulder loin – tender with moderate intramuscular fat, under rib – juicy and crunchy from the tendons, rib-eye – rib section beef that removes the bones and ligaments leaving only the lean middle cut with the softest, aromatic and richest flavor, Wagyu – carefully selected Australian beef with intramuscular fat and marbled patterning offering a sweet, soft, smooth taste, and Kobe beef directly from Japan with intramuscular fat throughout the piece, which adds to the flavor with a soft and juicy texture that melts in your mouth!
Enjoy deliciousness at: 6th floor, B Zone, centralwOrld.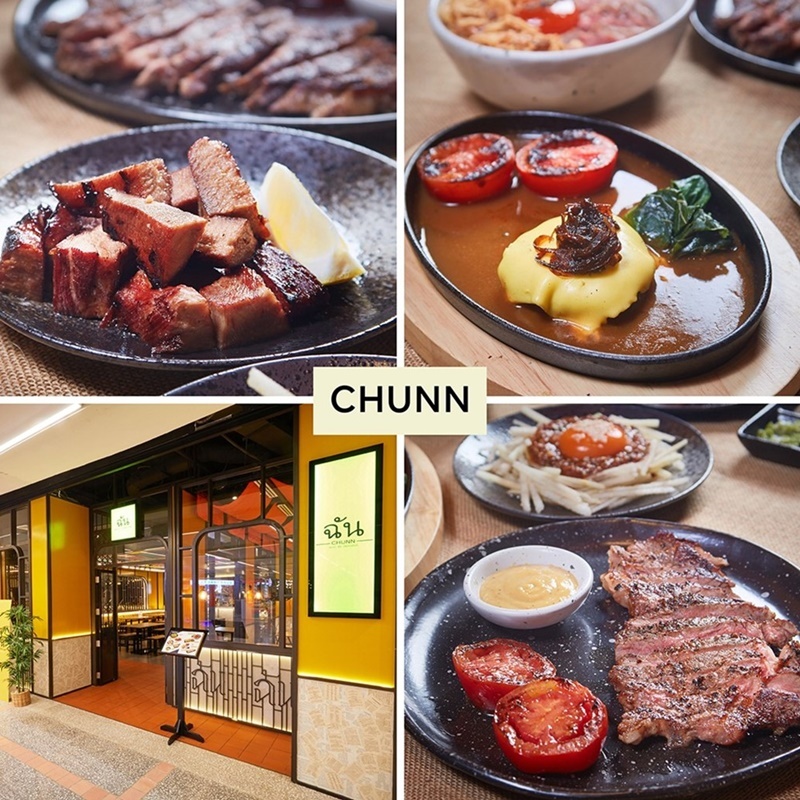 Nuer Koo
Good for the soul story: CHUNN restaurant originated from a group of friends who loved eating beef. One of the members was a chef who loved to cook grilled meat for his friends when they got together. This led to the concept of 'visit my house and try the way I like it' – CHUNN's beef menu items are delicious and varied at affordable prices. This is to create a good vibe for customers who come to eat at CHUNN restaurant to became (our) friends the next day.
Good for the stomach menu: Beef and pickled egg with rice, beef-fried rice, rib-eye steak (A5), grilled beef tongue, grilled beef with pickled fish sauce, Wagyu Katsu Sando and beef tartare.
Enjoy deliciousness at: 7th floor, Beacon Zone, centralwOrld.
Tan Kun
Good for the soul story: The new restaurant that is perfect for meat lovers at the house of 'Tan Kun' as we bring cuisine from the reign of King Rama V into the modern day. A steak and Thai-fusion restaurant inspired by the early-middle Rattanakosin period, combined with modernity to create multicultural cuisine under the concept of 'Traditional, Organic and Fusion', using high quality and healthy ingredients such as premium beef from highly sought after farms, pork from an organic farm and natural spices without the need for MSG or oyster sauce.
Good for the stomach menu: Charcoal grilled beef steak, Tan Kun beef and rice, Ork Ya tender beef Thai basil, Harami beef and rice.
Enjoy deliciousness at: 1st floor, Hug Thai Zone, centralwOrld.