Rinascente x Cathay Pacific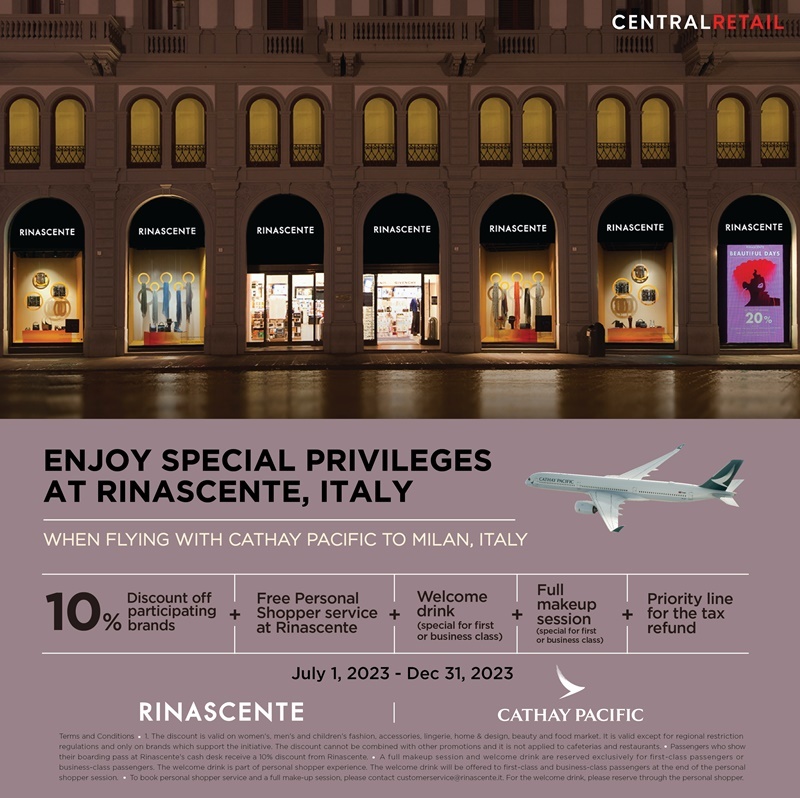 Cathay Pacific passengers enjoy more when shop at Rinascente, the #1 Luxury Department Store in Italy under Central Retail.
Simply present your boarding pass at Rinascente Milan, Rome Tritone, Rome Piazza Fiume, Turin, Florence, Catania, Palermo, Monza, and Cagliari's cash desk to receive exclusive discounts and offers.
From July 1, 2023 - Dec 31, 2023
*Terms and Conditions apply
The discount is valid on women's. men's and children's fashion. accessories. lingerie. home & design, beauty and food market. It is valid except for regional restriction regulations and only on brands which support the initiative. The discount cannot be combined with other promotions and it is not applied to cafeterias and restaurants.
Passengers who show their boarding pass at Rinascente's cash desk receive a 10% discount from Rinascente.
A full makeup session and welcome drink are reserved exclusively for first-class passengers or business-class passengers. The welcome drink is part of personal shopper experience. The welcome drink will be offered to first-class and business-class passengers at the end of the personal shopper session.
To book personal shopper service and a full make-up session. please contact customerservice@rinascente.it. For the welcome drink. please reserve through the personal shopper.