A Magical Evening in The Sky: Bangkok Rooftop Bars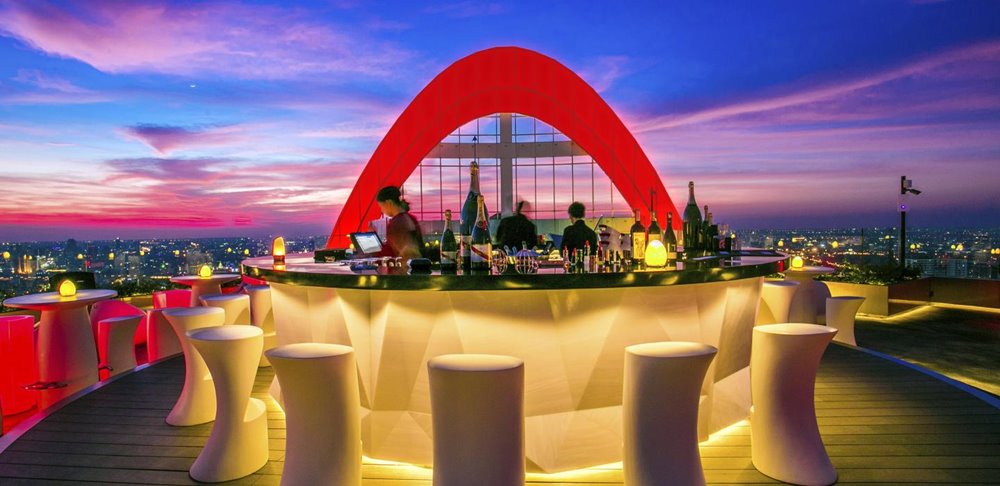 Bangkok is a vibrant metropolis with much to discover. But the hustle and bustle of the big city streets can be a bit overwhelming at times. Luckily, you can rise above those streets, escape the heat, relax with a refreshing drink, and enjoy panoramic views of the cityscape below at one of the many Bangkok rooftop bars.
The city is home to a plethora of rooftop venues – from cosy chill-out spots, to luxury sky bars. Each one offers something unique, but with so many choices, it can be difficult to make up your mind about where to go.
To help you make your pick, we've put together this list of our favourite spots:
Swing Bar by Ching Cha
Swing Bar sits atop the Ching Cha hostel in the heart of Bangkok's old town. The swing-like seats allow you to sway gently back and forth as you enjoy refreshing drinks and delectable eats.
Though Swing Bar is not located on a skyscraper, it features a spectacular view of Bangkok's old town, the iconic Giant Swing religious monument, and one of Thailand's most historic temples – Wat Suthat.
Swing Bar serves a variety of Thai and international cuisine as well as creative cocktails, mocktails, beer, and whiskeys – all at affordable prices.
They're open daily from 5 p.m. to midnight, and there's no dress code.
Cielo Sky Bar & Restaurant
Cielo Sky Bar & Restaurant is a simple yet charming rooftop bar in the Phra Kanong area of Sukhumvit Road. The bar is located on the 46th floor of the Skywalk Condominium. Here you can enjoy a variety of delicious cuisine and spectacular views of Sukhumvit's skyscrapers and the
Chao Phraya River. One of the highlights at Cielo Sky Bar is its "Skywalk" – a glass walkway above the swimming pool that will make you feel like you're walking in the sky.
Cielo Sky Bar is open daily from 5 p.m. to midnight and there is a smart casual dress code: Slippers, flip-flops, athletic apparel, and backpacks are not permitted.
Red Sky
Nestled in the heart of downtown Bangkok, Red Sky is an exclusive urban bistro that serves a variety of wines and other refreshing libations along with a wide range of creative cuisine from Chef Christian Ham. For an unforgettable culinary experience, we recommend Red Sky's signature dish – truffle-infused wagyu beef tenderloin Rossini.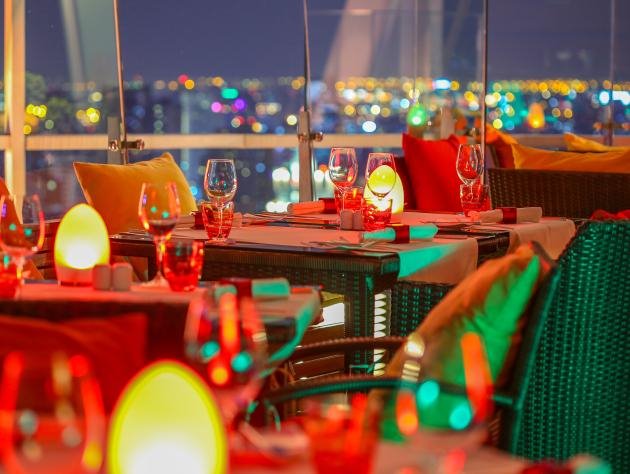 Located on the 55th floor of Centara Grand & Bangkok Convention Centre at CentralWorld, Red Sky has an elegant atmosphere, indoor and outdoor dining areas, and spectacular views of downtown Bangkok.
Red Sky is open daily from 4 p.m. to 1 a.m. and has a smart casual dress code.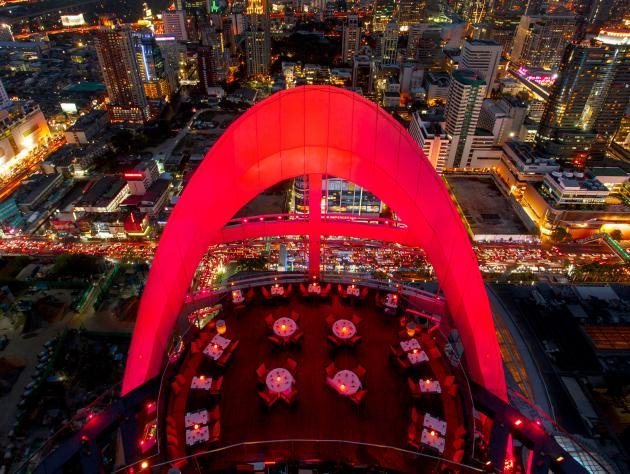 CRU Champagne
Just above Red Sky, on the 59th floor of Centara Grand & Bangkok Convention Centre at CentralWorld, sits CRU Champagne – one of the most luxurious and exclusive rooftop bars in Bangkok.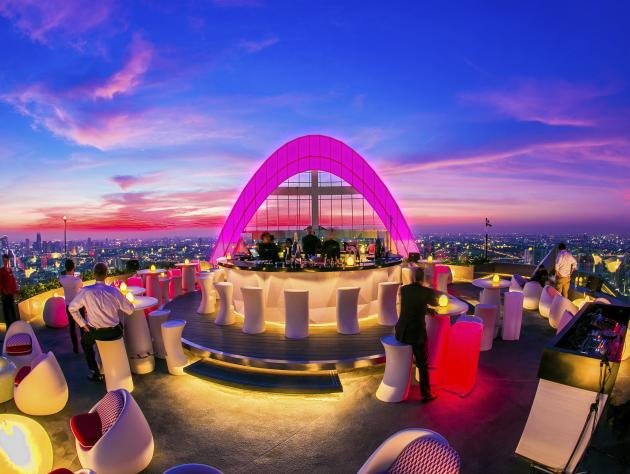 To get to the bar, take the elevator to Red Sky and then take the private glass elevator up to the rooftop area. CRU Champagne features an alfresco area, with a large circular bar as its centrepiece. G.H. Mumm Champagne and a variety of cocktails and tasty snacks are served while the DJ sets the mood with some laid-back tunes.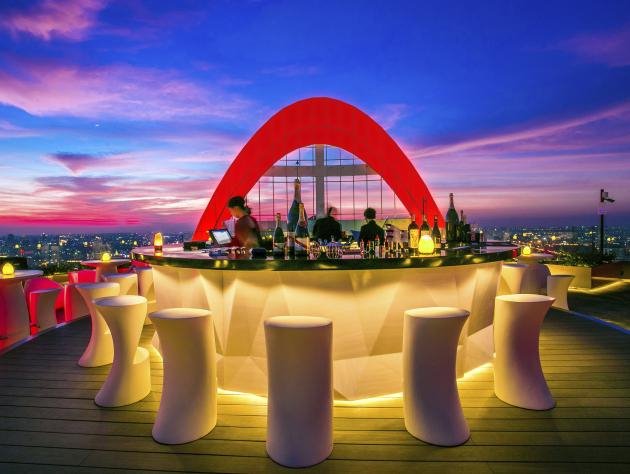 Words will always fall short of properly describing the absolutely breath-taking 360-degree view. The entire Bangkok cityscape and beyond can be seen from this perch, along with an endless view of the sky around and above you. The best time to visit is in the early evening: You will feel
as though you could almost touch the colours of the sunset.
The bar is open daily from 5 p.m. to 1 a.m. and has a smart casual dress code.
If you're looking for a magical evening with friends, loved ones, or that special someone, rise above the metropolis and spend some quality time in the sky at a Bangkok rooftop bar.