Central World Bangkok Countdown 2023 - Times Square of Asia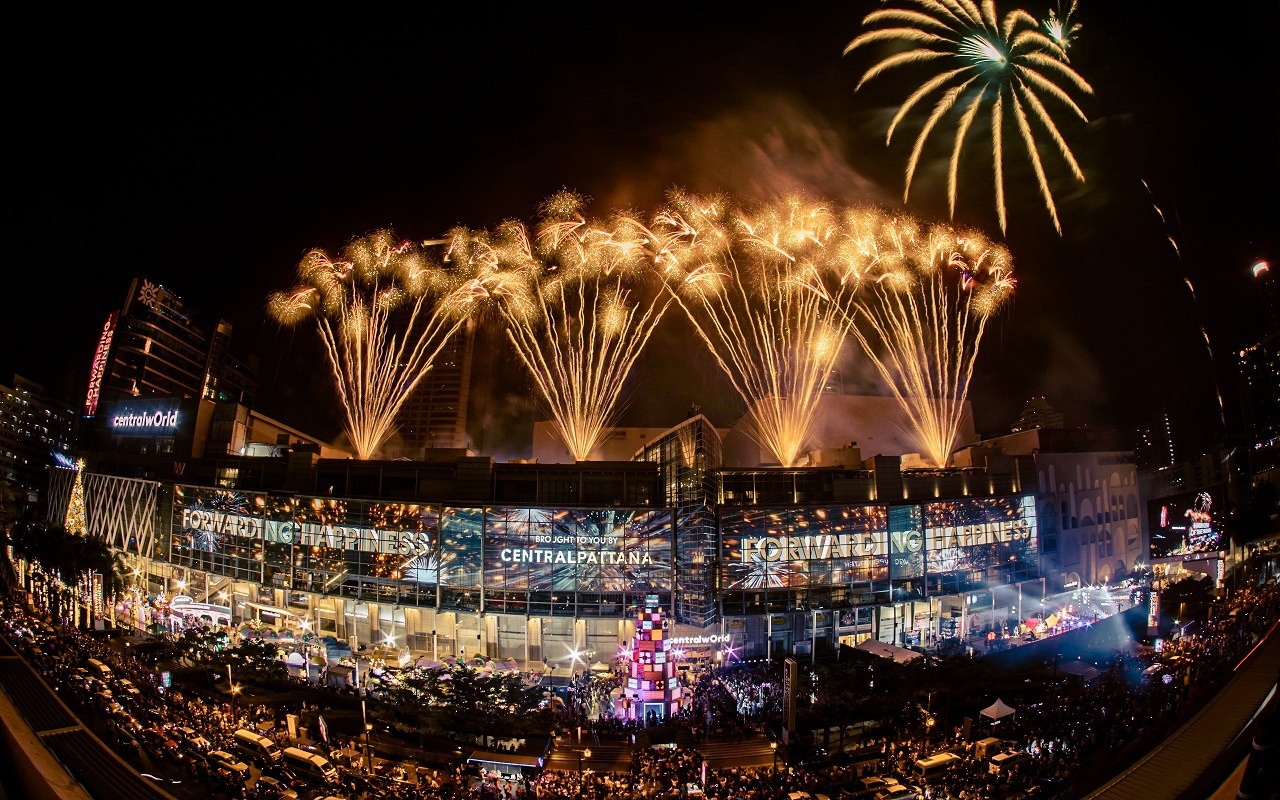 Get ready for ultimate global countdown celebration of all time in the one and only 'Central World Bangkok Countdown 2023 - Times square of Asia' at the heart of Bangkok
Seven countdown highlights at the 'Times Square of Asia' in Thailand
Do not miss a big surprise 'The World Artist of the Century - The Return of K-POP King 'RAIN'
Enjoy unlimited fun from top-awarding artists including: Bowkylion, Violette Wautier, Oat Pramote, Joey Boy, 4 EVE, Phi Phi Krit, Billkin Putthipong, Three Man Down and Non Thanon.
Experience the most Gigantic Stage in the heart of Bangkok and cutting-edge laser and graphic shows.
180˚ Musical Firework Extravaganza lasting 15 minutes in the heart of the landmark of the 'Times Square of Asia'.
Discover the first Ratchaprasong City-Scene Synchronization: the synergy of businesses in the country's strongest commercial and tourism district to co-create a unique sensational countdown event in the heart of the city.
World's Best Festive Destination everyone is waiting for - warm up before the countdown with Central World Countdown Music Festival from ten popular artists for ten days and ten nights (21-30 December 2022), Digital Fireworks Art on the panOramix screen, with state-of-the-art graphics from Rukkit x Pai Lectobacillous, world-class street artists, which will be shown on the screen from 21 December 2022 to 1 January 2023; be amazed by LINE FRIENDS Kingdom to fill your happy moments at Central World Square.
Enjoy the fun and entertainment with high-level safety control measures: there are more than ten exits, and nursing staff and ambulances on stand-by as well as increased safety measures such as more security guards to cover all areas of the shopping centers and increased professional security checks running 24 hours a day, police officers, EOD officers and K9 dogs are stationed 24 hours to patrol and control, CCTV throughout the shopping centers, and people and vehicles are checked at every entrance-exit point.
Enjoy unlimited fun, in Central World Bangkok Countdown 2023 at Central World, the Times Square of Asia from 21-31 Dec 2022 and Thailand Countdown 2023 at countdown landmarks nationwide: Central Phuket (31 Dec 2022), Central Chiangmai (28 Dec 2022-3 Jan 2023), Central Pattaya (8-31 Dec 2022), Central Marina (15-31 Dec 2022), Central Hatyai (24-31 Dec 2022), Central Ayutthaya (27-31 Dec 2022) and Central Korat (28 Dec 2022-1 Jan 2023), with special offer for international visitors, register for The 1 Tourist membership receive free gift and welcome package brand discount valued up to THB 5,000 from participating stores, Central Department Store, Tops Market, Central Food Hall, and TOPS Online. Tourist can also enjoy Boarding Pass privileges program by simply showing airline boarding pass at redemption counter to receive exclusive offer and service. Participating airlines are Air India, Bangkok Airways, Kris+ by Singapore Airlines, Thai Airways, Thai Smile, VietJet Air, Nok Air, and Hong Kong Express.
Moreover, don't forget to redeem your rewards once you make qualifying spendings with international partners such as Alipay, JCB, Mastercard, UnionPay, Visa to receive special gifts. Redeem your privileges at Redemption Counter, 1st Floor. Tourist privilege is applicable for tourist destination 15 branches i.e., centralwOrld, Central Village, Central Phuket, Central Rama 9, Central Ayutthaya, Central Pattaya, Central Marina, Central Chiangmai, Central Chiangmai Airport, Central Chiangrai, Central Si Racha, Central Chantaburi, Central Udon, Central Samui, and Central Hatyai.