Local Guide to Thai Food in Krabi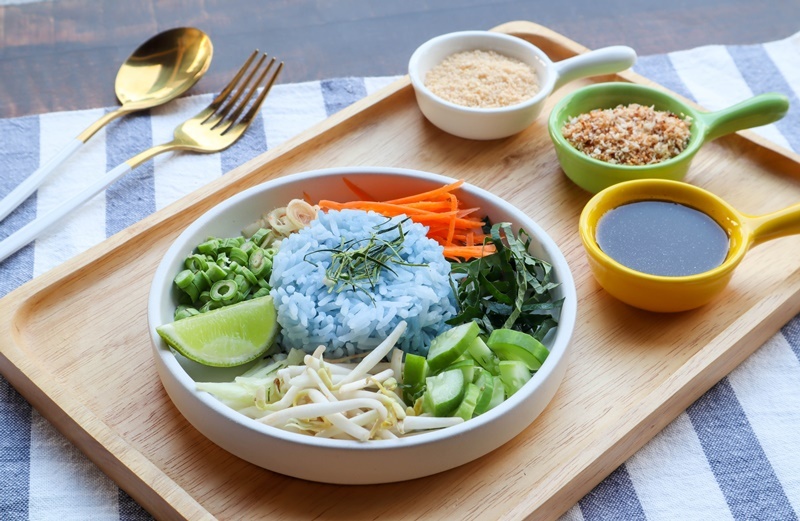 With its towering limestone cliffs, lush vegetation, and pristine white sandy beaches, Krabi is one of Thailand's leading tourist destinations. Another major reason for Krabi's popularity, is its delectable cuisine. You can expect to find a wide array of enticing restaurants specialising in Southern Thai food throughout this beautiful coastal province.
If you love the spicy food in Bangkok and are looking to kick it up a notch, Krabi is the place to be.
"When compared to the central Thai food that you can find in Bangkok, Southern Thai food is a lot spicier and more flavour-intensive" says Chef Pae of Centara's Sands Beach Club, Centara Ao Nang Beach Resort & Spa Krabi
Of course, if you can't handle spice, there's plenty of flavourful fare that's easier on the taste buds. The Thai food in Krabi has something for everyone – whether you're an omnivore, a vegetarian, a vegan or a seafood lover.
Omnivores
Many dishes in Krabi consist of rice or noodles with a side of vegetables, meat or seafood. And you can easily customise every meal according to your diet and spice tolerance.
Some must-tries include:
Noodle Soup: The ingredients of this soup are noodles with a choice of beef, pork, chicken, prawns or other seafood. Normally found at street food stalls, this dish is a tasty staple.
Phad Thai: Pad Thai is the posterchild of Thai food. This concoction of stir-fried noodles with a sweet, savoury and sour sauce has for generations been Thailand's most popular dish.
Kaeng Som Bai Chamuang: Yet another local favourite, chamuang leaves in coconut milk with fresh prawns and sour soup (kaeng som) is a perfect combination of sour and spice.
Vegetarians
One of the great things about Krabi is that most restaurants offer freshly cooked food. This means that you can indicate precisely what you would like to include or exclude from your meal before it is prepared. So, if you find yourself in a non-vegetarian restaurant, it is very likely that they will be able to cater to your needs.
Go-to delicious vegetarian dishes are:
Pad Puk Ruam: The name of this pure vegetarian dish literally means "everything mixed together". The variety of vegetables used in this dish gives it a tantalisingly colourful appearance and taste.
Khao Yum: Chef Pae highly recommends this spicy rice salad, which is a famous local dish in Ao Nang.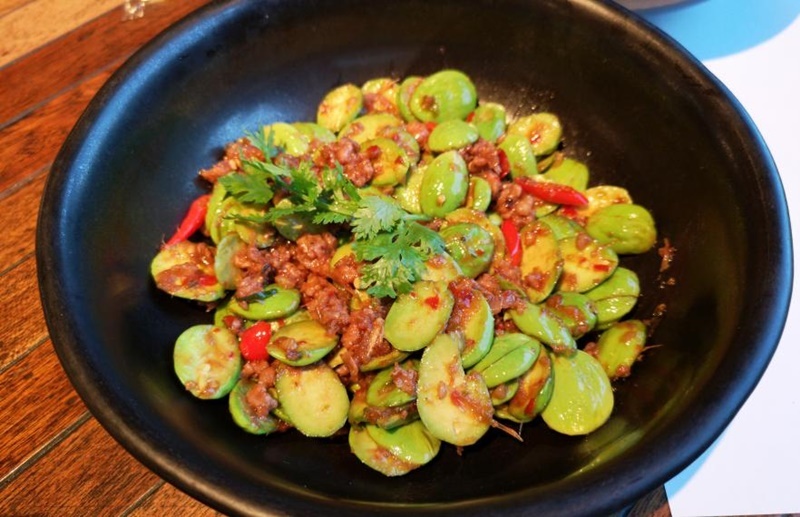 Vegans
If you fancy fantastic vegan food, Hongming, Chalita Cafe & Restaurant, Somkid Vegetarian and Youta Vegetarian Food are great places that offer a variety of vegan-friendly food and drinks.
A few must-try vegan dishes are:
Raat Na: Raat Na basically translates to noodles in a thick soup. This simple yet satisfying dish can be found throughout Krabi.
Sataw Pad Prik Gang: This recipe with beans and a red curry paste is one for the adventurous as it's extremely spicy!
Tip: To make sure that the food is truly vegan, ask if they prepare it "Jay". Jay in Thai means that something is made with no meat products.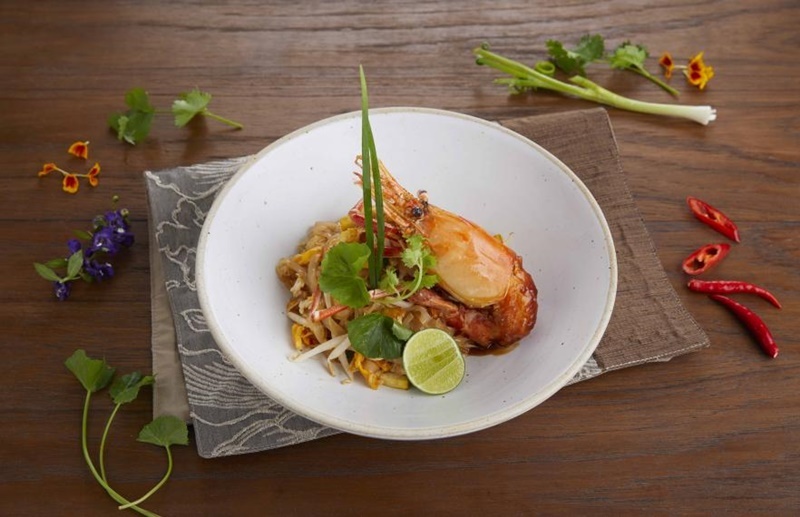 Seafood
This article would not be complete without a mention of Krabi's fantastic seafood. Located on the coast of the Andaman Sea, Krabi is perfectly placed to benefit from a bountiful supply of fresh, quality seafood.
Classic Thai seafood dishes you should try:
Phu Pad Pong Karee: Stir-fried soft-shell crab in a silky yellow curry sauce, this signature Thai dish is a must-try for seafood lovers. Served with a plentiful side of steamed jasmine rice, the perfect consistency of the crab will have you wanting more!
Tom som pla krabok: A sweet and sour fish soup served with lots of ginger, Tom som pla krabok is guaranteed to excite your palate with its tangy taste.
Choo Chee Pla Kapong: Served in a rich red curry sauce and flavoured with fresh sweet basil, this fish dish is one of Krabi's most popular seafood options.
Hoi Chak Teen (Soft-boiled wing shells): Thanks to Krabi's seaside location, wing shells are found in abundance. This local delicacy is not to be missed.
When asked about people's seafood favourites, Chef Pae said, "Most people love to buy fresh seafood that comes straight out of the fishing boats. Our chefs will display them at the station so people can choose the most appealing options."
For the very best Thai food in Krabi, we suggest treating the family to an incredible meal at the Sands Beach Club at Centara Ao Nang Beach Resort and Spa. A firm favourite among locals and tourists alike, this renowned restaurant has gorgeous ocean views and the unforgettable cuisine to match.
If you see Chef Pae, feel free to say hello. He'll be delighted to offer his recommendations.
Check out all our beautiful hotels and resorts in Samui:
Centara Grand Beach Resort & Villas Krabi
Centara Ao Nang Beach Resort & Spa Krabi
Centara Anda Dhevi Resort & Spa Krabi